In October 2010, I met Kali Master Andrew P. Obon at the APO-Balintawak Self-Defense Club in Camp Phillips Bukidnon, Philippines and was introduced to the deadly Stick Fighting Art of Balintawak Eskrima.
I was blown away by the speed, simplicity, fluidity, and accuracy of the art. I immediately enrolled in the club and trained under the guidance and wisdom of Guru Andrew P. Obon. Training in the art developed my speed, body coordination, and reflexes. I also learned perfect timing and focus.
How to be a Grandmaster
This epic story will inspire you to become an Eskrima Master!
In December of the same year, I became President of the APO-Balintawak Self-Defense Club. I and Guru Andrew became close friends and started endorsing Balintawak Eskrima to the world. By this time, APO-Balintawak Eskrima Self-Defense System is associated with Filipino Martial Arts (FMA) Informative and has two informative issues available with the top Filipino Martial Arts promoter in the world.
Our involvement in Filipino Martial Arts remains active both offline and online to accomplish its vision and mission. I still teach Balintawak Arnis.
Here's my interview with a good mentor and friend in the Filipino Martial Arts…
Exclusive Interview with Kali Master Andrew P. Obon
Stick Fighting Sport: Can you share with us briefly your martial arts background?
Andrew Obon: I started Taekwondo at Age 13 in Malaysia and went on to earn a 2nd Degree Blackbelt in Tang Soo Do in the Philippines. Before Balintawak martial arts, I had one-year training in Kali Arnis Eskrima Double Stick and Traditional Single Stick under Masters Casimero Espina and Filisisimo Bulfa, a retired general of the Philippine Army, both from Negros Oriental.
In 1974, I studied Balintawak Eskrima – original version under the notable deathmatch fighter Master Tinong Ybanes of Cebu City. He was a direct disciple of Grandmaster Venancio "Anciong" Bacon and GM Atty. Jose Villasin. In 1976-77, I continued my training under then GM Nick Elizar, a direct student of GM Teofilo Velez. He taught the Balintawak International version – a more systematic method designed by GM Villasin and Velez. I found that both versions have its own merits.
In line with my academic studies, I moved to Iloilo City, where I met and taught the "would be" founder and Grandmaster of the Combative and Sportive Arnis System, Inc. (CASASAI). I was acknowledged as one of their Grandmaster.
I have close to 5 decades of learning and teaching in the martial arts.
Stick Fighting Sport: Please give the readers an insight of APO-Balintawak and the training progression from beginner to advance.
Andrew Obon: On the outset, I would like to explain the prefix APO. In the Visayan dialect also and in the Filipino language, APO means "the source." As applied here, it refers to the source of knowledge and wisdom. GM Bacon passed away without an appointed successor. Thus, with due respect to the late and highly acclaimed Grandmaster, I refrained from putting any other name or word before the name of the Eskrima Art he had founded.
However, I would think that the prefix APO would be significant. For a man of little academic education, the Grandmaster had probably tapped the infinite source – the APO, for his genius and wisdom in conceiving and putting together a masterpiece that is Balintawak schools. This is the knowledge in the universe which I too draw my inspiration from the source to improve and complete my martial arts system.
As an insight, our martial system thrives on ensuring and sustaining the harmony of our philosophy, principles and value system with that of nature. We embrace and practice the universal principle of the Yin-Yang fusion to bring about balance in our system. As such, we give equal emphasis on offense and defense technique and the technical aspect to that of our value system. We require each student to be proficient in the basics as a pre-requisite to the next and subsequent levels of learning.
As to our training program, we have eight levels of proficiency, which are grouped into basic, intermediate and advance. Level 8 – qualified instructor, Level 9 – Master and Level 10 – Grandmaster.
In the basic level, we start instilling the martial value system, the practice of basic techniques with emphasis or proper technical execution on form, footwork, speed, and power, in that order, to achieve the feeling of effortless effort, to feel and enjoy the process. Here is where we start to nurture the good habits and attitude in our students. Instilling in them to be mild outside but strong within. This is the philosophy we live by.
At the intermediate level, the student is trained in more complicated techniques. To better facilitate the learning process, we introduce agak – guiding and controlling at this level. A student would learn to defend better if he is taught how to agak at an early stage, at the start of the intermediate level. Otherwise, the student has to endure the gruelling attacks of his instructor.
Going back to the yin-yang fusion, the student is given the opportunity to express his potentials better through balanced training. When a student knows how to agak he becomes a better defender. With a balanced perspective of both sides of a coin, the student would better understand and come up with a better response. This way the learning process between student and teacher is balanced rather than skewed.
Group techniques and the applications – counter to counter and re-counter, disarming techniques are part of the curriculum at the intermediate level, among others. Most of the techniques are performed in corridas drill fashion. The advanced level is where re-counter to re-counter techniques are applied in combative freestyle sparring fashion.
Corridas interactions are upgraded into controlled sparring starting with close-in sparring, constantly in contact with your sparring partner and gradually the distance widens to the medium and long range. Locking, throwing, takedowns, kicking and other techniques are taught and practice at this level. Defense against bladed, pointed and other weapons of attack are also taught here. The advanced students are required to develop 24 original techniques that would pass the scrutiny of the evaluation panel.
Our students undergo proficiency evaluation at the end of each of the eight levels. The evaluation covers three aspects, namely: Attitude about the Value System, Knowledge, and Skill.
Stick Fighting Sport: Please tell us about your Master Tinong Ybanes and Nick Elizar.
Andrew Obon: Master Tinong Ybanes had a Jovial and composed personality. He was healthy and extraordinarily strong for his age at late 50s. He was first trained by Master Jose Villasin and then he was referred to Grandmaster Bacon. He had a year of closed-door personalized training with GM Bacon. This was before his deathmatch. He handily won the match over a Punta y daga challenger from a rival group. It was a quick victory.
Master Nick Elizar was about mid-thirties then, was outgoing and outspoken. He is physically small by Filipino standard. However, he was very energetic and fast in his movements. He has a big heart in sharing his knowledge and skills in eskrima arnis. He was adept in the use of his freehand for attacking. His teaching phase is fast as he wanted his students to learn all that he knew.
Stick Fighting Sport: What are some of your fondest memories training with your teachers?
Andrew Obon: Some of my fondest memories training with my teachers are:
Training with Master Ybanes put me on my toes all the time. His moves were unpredictable due to the unorganized flow of techniques in the original version of Balintawak. I remembered being hit quite often on my upper arms and thighs, by his fast strikes. Sometimes the impact was hard and left behind dark marks on my limbs. A couple of times, I was rapped on my weapon-hand for positioning my hand too high when I blocked. I said to myself this must not happen again. And, it did not ever happen again. In late years, the incident led me to develop the hinge principle in blocking.
Often Master Elizar would hit me on my upper arms and thighs while engaged in Corridas drill. Like a normal student, I got carried away by the fast strikes. He would remind me to twist my shoulders away or withdraw my lead leg away from the line of attack coupled with blocking or deflection maneuvers. I was hit one time by an angle 12 strikes on my forehead partially due to slippage caused by sweat on the arms, but mainly due to my lack of timing and coordination in parrying the blow. I later realized the importance of the thumb in catching the wrist while parrying and moving my head away from the line of attack.
While performing as a partner with Master Bulfa during a spontaneous demonstration, I was thrown hard on the wooden floor, without prior agreement. Luckily my little knowledge in Judo helped me to break the fall that cushioned the impact. As a seasoned military man, he always performs his techniques as though it was real combat.
Stick Fighting Sport: What is your forte in the arts?
Andrew Obon: My forte in the arts is to fight without fighting – effortless effort. To win without fighting is the ultimate for a rational martial artist. This is because if two tigers fight one or both will get hurt. It is always easier to engage in a fight than not to fight, because of our ego and pride. I believe that if you have conquered yourself, there is no greater challenge that you cannot conquer. So, my forte is my rational mind that seeks to be one with the universe.
The arts taught me to be grounded on a strong foundation – the universal principle of the yin-yang fusion which our philosophy embraces, "to be mild outside but strong within." That is my forte, also in teaching and coaching in the arts.
Stick Fighting Sport: What makes Balintawak unique compared to other Style of Eskrima?
Andrew Obon: I will just mention a few uniqueness of Balintawak compared to other styles, namely:
Simple, practical and effective. It uses only one stock and treats it as a mere extension of the arms. With or without it you can still effectively defend yourself.
Stemless blocks and strikes. Its strikes and blocks are delivered from where the weapon is positioned. Its movements are non-telegraphic. Hence, its strikes are fast and better focused.
Human-friendly movements. Its footwork, postures, and movement are natural, akin to Western boxing. It is adept to short and shallow footwork. Thus, it creates flexibility and dexterity in the execution of offensive, defensive and counter-offensive maneuvers.
The economy of movement to express the optimum. This is express in all aspect of its movements.
Specializes in close-range combat. This is the most difficult combat range to master. Here, all human weapons are employed – anything goes.
One of a kind teaching the system. The agak process of coaching is highly personalized – a mentoring approach. No structured form or choreographed moves as you proceed into the advanced levels.
Stick Fighting Sport: Is there an empty hand element in APO-Balintawak?
Andrew Obon: Take away the stick and there goes the empty hand element naturally. Again, the stick is a mere extension of the arms. We have complete defense system on empty-hand self-defense. Our empty hand defense follows similar angles of attack and principles to that of the stick except for minor adaptations to suit the type of weapon. When dealing with an edged weapon, we simplify our moves to its barest essential. To neutralize an assailant immediately employing the principle of DECAD – deflect, control, attack, and disarm. The amount of force must be commensurate with the threat.
Identify a true threat first before you engage. Often you only need to strip away the knife without attacking your assailant. This is the spirit of a true martial artist. We also train to defend against grabs and holds. This is now a mixed martial arts world, we have to stay relevant at all times.
Stick Fighting Sport: What is your unique teaching method?
Andrew Obon: My uniqueness in teaching, I install a strong sense of our value system among my students. They have to put into practice the values and virtues they learn and share their experience with the others. I emphasize proficiency in the basics and knowledge in the principles behind each technique. A technique without principle falls short of its potential. Art without a sound philosophy is like a tall tree whose root system is shallow.
Stick Fighting Sport: How have your personal martial arts, developed over the years?
Andrew Obon: My personal art, the APO-Balintawak has significantly developed in several ways, to cite a few:
To give justice to the brand of our art, I felt that it is proper to name our style about the Philippine Revolution of 1887 and not limit it to the street in Cebu City. This way we would be able to identify ourselves better with the principles of the yin-yang fusion as epitomized in the personality and values of Apolinario Mabini – the yin and Andres Bonifacio – the yang. Our values and rationalization of our system are akin to the philosophical mindset of Mabini whose influence touched the hearts and minds of the people. This touch of Yin contributed to the success of the evaluation.
To bring out the potential of each technique, I have defined the principles and concepts behind the moves.
To be in harmony with nature, I derive my principles from nature to make our techniques science base.
I built-in the Kaizen mindset into my system, innovating and simplifying our process to its barest essential to express the optimum – economy of movement.
My system has triggered significant martial artists who gave unsolicited commendations, through my website @www.apobalintawak.wordpress.com
You bring the right attitude and skills to represent Balintawak. Hope you help all the other Balintawak-families to find the right place in the world of martial-arts and get the mark of respect that they deserve. – Thorsten (International Balintawak Guru)

Hope your club will become International; you're one of the best Masters of Balintawak Eskrima Master Obon. – Grandmaster Nick Elizar (Nickelstick)

Master Obon, I would like to promote the style of Balintawak here at Wing Chun HQ, Hong Kong… I watched your students in your video on Youtube; I can say they are one of the elites in Balintawak Escrima. Maybe one of them is interested in promoting Balintawak here in Hong Kong. Because I think they are ready to become future masters just like you Master Obon. – GM Shi Fu Wong

In my 50 years in the Martial Arts, this is the first time that I saw a martial arts that is simple and complete. – Rene Plea (Father of European Karate)
Stick Fighting Sport: What advice would you give to those seeking authentic Eskrima Arnis training?
Andrew Obon: My advice is simple, don't just go for authenticity, couple this with those that are effective in a real combat situation. Most of the authentic styles are those who remain true to their origin. These are the traditional styles where tradition is more important than being relevant and effective. These authentic styles are found in the far-flung barrios and even in urban areas in the Philippines.
For example, Balintawak Original is more authentic over that of Balintawak International. However, the later is an improved version of the former. We can find authentic art objects because they don't change over the passage of time. However, for an art whose beauty and meaning come from human movements, change with the times and the mind that interprets them.
I would rather advise that we look for a good teacher of the art with its proper definition, as follows:
Master – an expert of his discipline who is extraordinarily capable and knowledgeable. He can discern, to detect with the senses especially the eyes. Practice good value System and emphasize on process rather than a product. He practices quality and science base teaching.
Grandmaster – a master in a field whose skills or accomplishments exceeds those of other masters in similar discipline. He completes, perfects, or equips thoroughly, acquirement, attainment, that which constitute the excellence of mind, or elegance, or manners, acquired by education and training.
Qualified Instructor – proficient in his discipline and has completed level 8 or the equivalent under a master of the discipline. Practice the science base teaching method and had undergone one-year practice teaching.
The teacher or instructor must be able to prove and trace his lineage to the founder and Grandmaster of the discipline he is advocating and teaching this is a proof of authenticity to the source and founder.
Stick Fighting Sport: Do you draw techniques from other styles?
Andrew Obon: We do not draw stick techniques from other styles as they do not adapt well to our system. We would rather innovate our techniques to counter the other styles better. However, since I am also proficient in other arts, I may have improved the kicking techniques of Kali Escrima. The infusion or integration comes naturally and about the yin-yang fusion principle.
However, I have assigned a couple of my students who are proficient and master in Combat Aikido and Jujitsu, respectively to integrate their style into the 24 techniques, as partial requirement for completion of the advanced level. This is aimed at strengthening the grappling techniques of Arnis Escrima by drawing concepts that are compatible and efficient. Balintawak is a unique style which gives students the opportunity to integrate their style based on their individual interpretation and personality.
Stick Fighting Sport: Does the edged weapon requires different training to an impact weapon or are the skills transferable?
Andrew Obon: The principles of the impact weapon are transferable to the edged weapon, as the concept is the same. However, the techniques of the stick need to be tuned to adapt better to the edged weapon. Only minor adjustment is necessary as the weight, length and probably its shape and quality differ. When striking and blocking with the stick, we make contact with its presumed edged side. This instils in the practitioner the sense in which a bladed weapon makes contact.
More adjustments are required in blocking rather than striking with the edged weapon. We must have a complete shift in paradigm from impact to bladed weapon once we handle the later. This is because we must not come in combat with the edged side as we normally do with the stick.
Stick Fighting Sport: Do you conduct seminar aboard and would you consider if you are invited to do so?
Andrew Obon: Yes, this is a welcome opportunity, to be able to teach the world my brand of APO-Balintawak. I just came back from a two-week vacation from Malaysia. I have a standing offer to promote my art there. Now that I have retired from employment, I have the time to fulfil my passion for teaching and promoting Filipino Martial Arts.
Stick Fighting Sport: What are your future Goals and Aspirations?
Andrew Obon: My future goals are to complete my first book – a trilogy on Balintawak Eskrima and have it published. This way I can better share to the world my knowledge and concepts of the Filipino Martial Arts and its Value System.
Note: Volume 1 of Guru Andrew Obon's Trilogy – Balintawak Arnis – is available in Amazon Kindle.
My aspiration is to see the spread and growth of genuine martial artists practising and promoting the Filipino Martial Arts to the world. And, for its practitioners to walk in the spirit of true martial artists – "one who is mild outside but strong within."
Thank you for the interview. More power to you and the media group you represent.
Check out this awesome video of Guru Andrew Obon in action: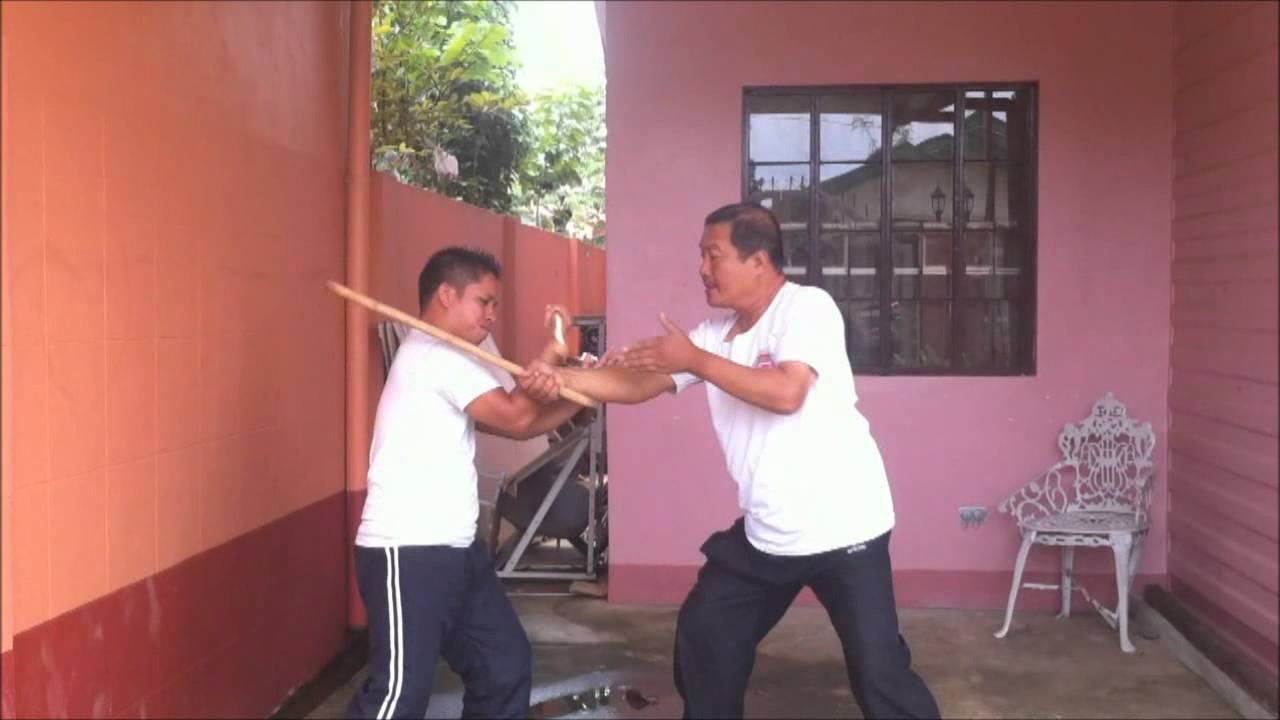 Learn More: